Abia Warriors' Former Coach Mourns Death Of His First Son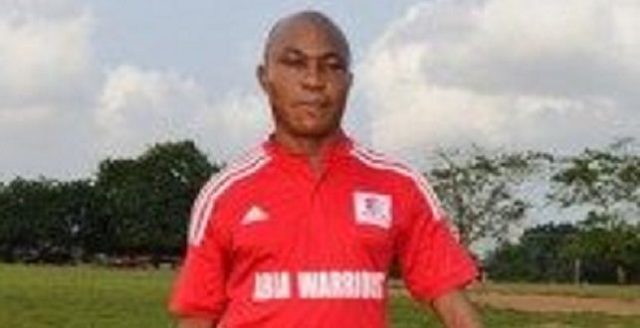 A former head coach at Abia Warriors FC of Umuahia, Chijioke Gabriel Osuagwu is currently in mourning, following the death of his first son.
The tactician fondly called 'Chief,' who is now the sports director at Diamond Football Academy of Umuahia, disclosed that Oscar Chijioke Jnr died at Federal Medical Centre in the Abia State capital, after a protraced and very costly illness.
Opera News gathered that Oscar Osuagwu, who graduated from Imo State University over ten years ago, first complained about stomach upset some months back, but all efforts to overcome the ailment proved abortive.
It was further learnt that the youthful lad, whose colleagues nicknamed 'Oskilo,' spent several weeks in and out of various medical facilities and was even on oxygen for a long period, before he finally gave up the ghost this past weekend.
The bereaved coach, who has also handled Stationery Stores, Flaming Flamingos and Nigerdock of Lagos, Bussdor of Port Harcourt as well as Iwuayanwu Nationale, Heartland and Police Machine of Owerri, is now preparing for a burial he never wanted.
The soft-spoken coach and grassroots football exponent, who played for the Lagos-based quartet of FHA, LSDPC, ACB and Union Bank during his hey day, is also calling on colleagues of his son to accord him a befitting burial.
With that target in view, Opera News scooped that a date close to Christmas is being considered for the funeral of the youngster, who played alongside ace broadcaster, Emmanuel Etim at Puma Football Academy of Surulere, Lagos.
He also made his mark as an undergraduate in the university and as a youth corps member in Kebbi State.
Indeed, Oscar Osuagwu left indelible marks everywhere he stepped, insuch that his associates are expected to troop in from far and wide to pay their last respects at his graveside later in December.
Coach Chijioke added in a post on social media: "Death has dipped hands into my family, taking away my first son, Oscar Chijioke Jnr.
"He had his basic education at Subola Primary School, Surulere, Lagos, then moved to AZ International Secondary School, Ajao Estate and Majors International School, Surulere.
"He then proceded to Imo State University, where he distinguished himself as the best graduating student in his faculty.
"Fondly called Oskilo, he played youth football with Puma Academy of Lagos and was the face of an advert by USAID in 2006.
"During his youth service year, he captained Kebbi State NYSC team and was a member of Oghara All Stars.
"He is now no more, but our fond memories will longer over him forever, for a life well spent. May his gentle spirit rest in perfect peace. Amen."
www.globaltimesng.com