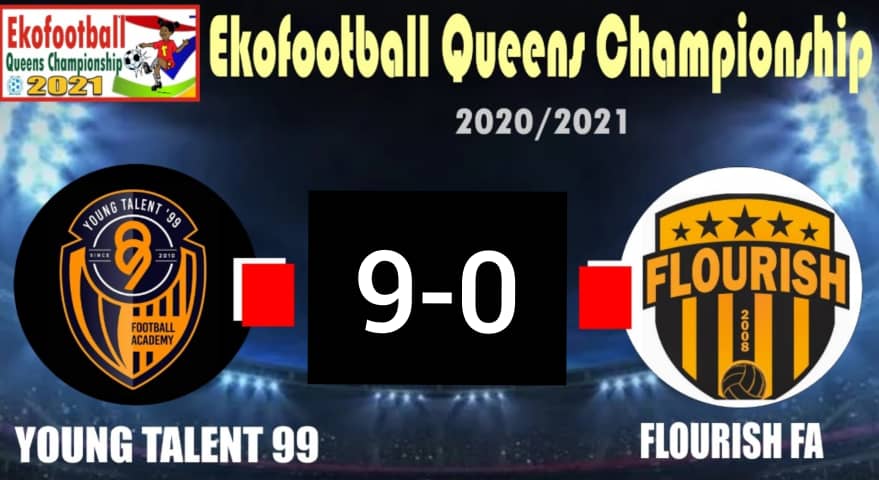 The 2021 EkoFootball Queens Championship Wednesday at the Agege Stadium recorded the highest number of goals scored in a single game in the history of the competition, as Young Talents 99 FA scored nine unreplied goals against Flourish FA. It was the biggest scoreline in the competition against any opponent.
The 9-0 loss condemned Flourish FA to the bottom of the Group E table with zero points from two matches and -12 goal difference.
Young Talents have the best results in the entire EkoFootball Queens Championship League games and the competition moves into the quarter-finals stage, with 9 points and +9 goal difference scoring the highest number of goals 15.
The second-best result was achieved by Group B league winners, Oracle Queens that amassed 9 points from three matches and +5 goal difference.
Meanwhile, at the end of Wednesday matches, five group winners emerged in the six groups leaving Group D open between Prince Kazeem Eletu Queens and Dannaz Ladies.
In Group A, Lakeside Queens are the group winner with seven points.
In Group B, Oracle Queens are the winners with 9 points.
In Group C, Oasis Ladies are the winners with seven points.
In Group D, leadership is still open between Prince Kazeem Eletu Queens are group leaders with seven points. While Dannaz Ladies with a game in hand can create an upset if they defeat Leo Queens by 4-0 in Thursday Group D decider. If this is achieved they will move to the top of the table as group winners with seven points and + 7 goals difference dwarfing Eletu Queens' final goal difference of +6 and seven points.
In Group E, Young Talents 99 FA are group winners with 9 points.
In Group F, Papa Soccer Academy is the group winner with 7 points.
Papa Soccer Academy defeated Divine Football College 3-0 in a Group F match played at Legacy Pitch.
In a Group C cracker, Oasis Ladies defeated Future Stars 4-1 in the game also played at the Legacy Pitch, National Stadium, Lagos.
Later today, Thursday 9, 2021 at the Agege Stadium, Leo Queens will confront Dannaz Ladies in a Group D game at 2 pm.
In the second game of the day, Flourish FA will battle against AJ Inter Queens at 4pm in a Group E game.
www.globaltimesng.com