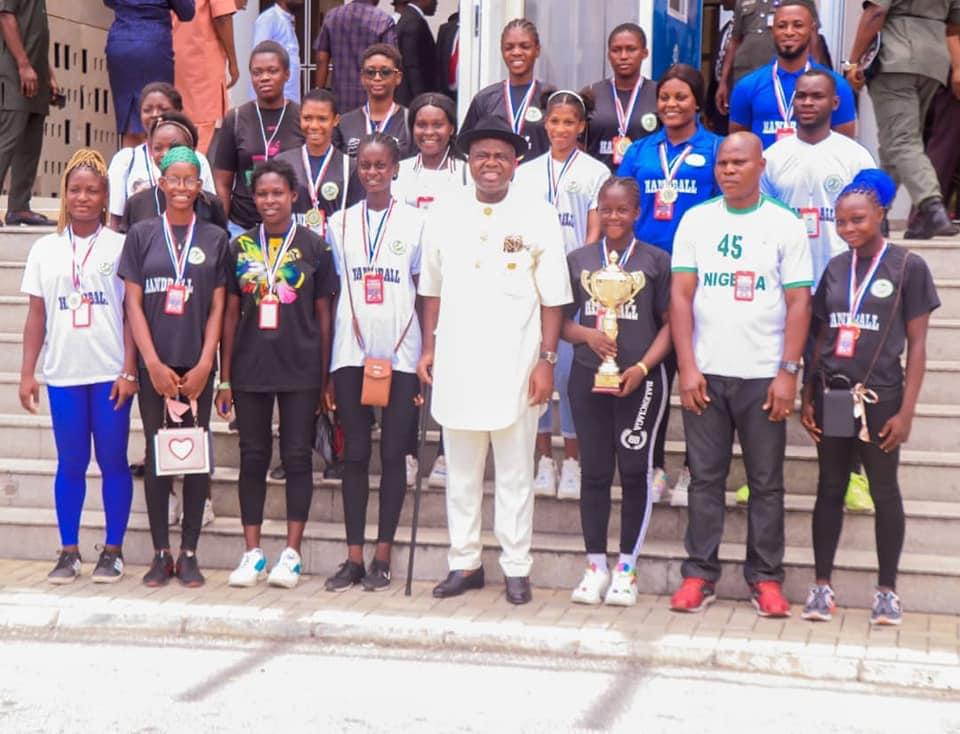 By Francis joseph & Yakubu Uzoma
The Bayelsa state Handball Coach, Mr. Opuene Yetougha has said the aim of the Bayelsa handball team is to qualify for the elite division 1 which is the Premiership this year.
In an exclusive interview while at their training base at the Samson Siasia Sports Complex Yenagoa Bayelsa state, he said they are training had to prepare for upcoming tournaments billed for Spain and Edo State respectively.
"We have intensive training because we are supposed to go for an international trip in Spain but we have not seen any approval yet, secondly we are also preparing for division 1 taken place in Edo state, male and female next month and the Under15 junior team festival also preparing that's why you see the place is filled with players".
"We have a program we follow so we are following all the programs that way".
On the challenges that the team is facing, Mr. Opuene said that the state government have done very well in terms of sponsorship but the team needed more facilities to train and more balls.
"The challenge we have is just facilities, for that of sponsorship we know the government is going to do it's best, the government is even trying, at least they have made us proud, they recognize us when we came back from Under 18 the female team, for that the government is doing well but we need more of balls".
He added that the aim of the team is to qualify for the Premiership.
"Our aim in Bayelsa in handball association is to make sure we play in the higher division in Nigeria which is the high flight, which is the premiership we have, I want Bayelsa to also play in the premiership that's our aim".
"In all aspects of the competition, we have been doing well so we want to play male and female in the fourth coming division 1 he concluded.
The Bayelsa state handball team won the National Under18 Handball Championship in early April which was held in Lagos beating Gboko Volunteers of Benue 18-8 to win the tournament.
www.globaltimesng.com