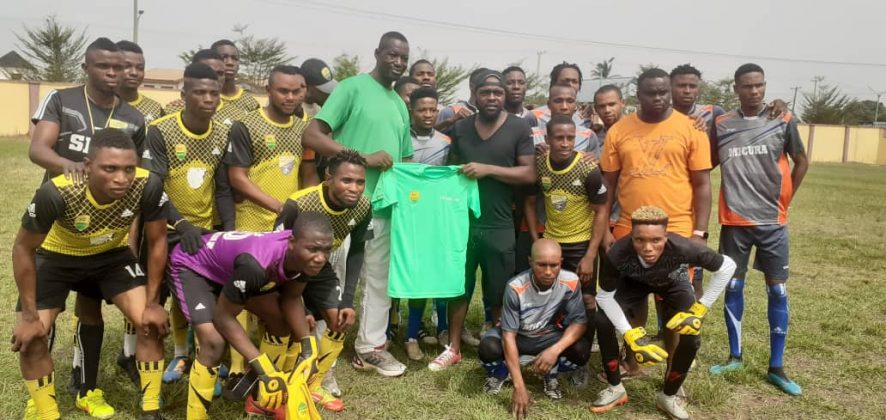 KG Sports Academy Agbor Rounded up its week-long Playing tour of Asaba with a 1-1 Draw against Emy Football Academy. The Match was abandoned in the 78th minute after the home side refused to continue play following the referee's decision to replay a missed penalty kick.
Captain Joseph Ukah gave the KG boys the lead in the 17th minute from a free-kick that sailed into the bottom corner leaving the goalkeeper injured and requiring treatment for few minutes.
Emy Football Academy Leveled score after the break to make it 1-1 and pushed the pride of Agbor back as their tired legs from playing back-to-back matches against JC raiders kept them on the back foot.
Emy missed two chances to take the lead before Gabriel Goodluck rose to head from the corner kick to force a save. Ibrahim Amin was brought down as he tried to get on to the rebound for a penalty.
Jude Obi took the kick and it went wide but Referee Kester Mash called for a replay due to the goalkeeper stepping out of his line. Emy Academy boys protested and their Director and Club Owner asked them to walk out.
The match ended the playing tour of the Pride of Agbor who lost 2 back to back matches against JC raiders (0-1) (1-2)>
" It was a good experience for us an opportunity to get more exposure, we enjoyed our stay in Asaba although it wasn't the result we wanted we hope to come back again to get better results " Skipper of the side Joseph Ukah Said.
"It's our way of exposing the boys to play competitive matches back to back, it helps not only to develop their stamina but also to help them bond well as they were able to camp together in the hotel, travel around and build better solidarity among the players, we will do this from time to time" Dr. Ken Gadaffi, the Academy Director stated.
www.globaltimesng.com