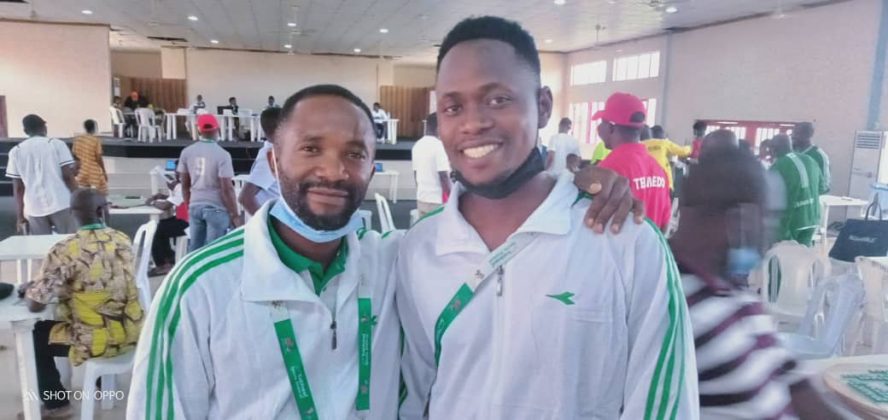 By Eche Amos, PRO, Nasarawa State Ministry of Youth & Sports Dev
It was a Friday of mixed fortunes for Team Nasarawa as the 20th National Sports Festival, codenamed "Edo 2020" currently running in the beautiful City of Benin, South-South Nigeria enters its day eight(8).
Even though Team Nasarawa didn't end the day without winning medals, It was not a favorable day for Team Nasarawa Women's Basketball🏀 as their hope of getting to the finals got quashed by a determined Lagos Stateside who edged them 72-26 points, marking the end of their experience at the festival.
Nuhu Idris had shown some glimmers of hope when he qualified for the semi-finals of the men's golf event but got his gold or silver medal's expectations dashed by his counterpart from Plateau State by three points.
He will now fight for the Bronze medal spot when he confronts his Delta State counterpart on Saturday afternoon at the Benin Golf Course.
But Golf still promises medals before the curtains are drawn closed at the festival.
Solomon Okoromi will be in action in the Gold/Silver medal stage in the Professional Division on Saturday, so also are Ibrahim Abdullahi in the men's Amateur category and Helen Alechenu in the women's Amateur Division in the unfolding of days.
In the Tureshi event of Trado-Sport, Team Nasarawa lost to Zamfara State in the quarter-finals stage but defeated Akwa-Ibom state 6-5 to qualify for the quarter-finals stage of the Ruwa event of the same Trado-Sport whose ballot is scheduled for tomorrow, Saturday.
Tennis could not live up to its billings as the pair of Loveth Ogah and Abubakar Haruna lost their mixed doubles 6-2, 6-2 to their Ondo State rivals, even as Loveth Ogah had earlier lost her singles contest 7-5, 6-0.
Team Nasarawa started reaping medals when Beauty Timothy Akatiki won a bronze medal in the Kung-Fu Wushu -52kg women's class following earlier victories over her Kano and Lagos States counterparts respectively but subsequent semi-finals loss to her Akwa-Ibom state opponent.
Coach Kingsley Enyie Karate-tutored side, after picking Team Nasarawa's first gold medal a day before, followed that up with another spectacular performance today, winning another gold medal, this time around, it was Ahmad Saidu Abdullahi who did that in the -60kg men's category after wadding off his Delta State's counterpart, Light Albert
As if that wasn't enough, David Bitrus Yilkat won Team Nasarawa's first Silver medal in Deaf Athletics in the men's 800m.
But the punchline of activities for the day saw Team Nasarawa appearing on the Scrabble map after picking up a Gold Medal in the men's Doubles.
Team Nasarawa Scrabble, making their maiden appearance at the National Sports Festival, won ten out of twelve rounds to clinch the first position, a magnificent feat made possible by the trio of Anthony Idorenyi Edet, Otuwase Aboki and Janet Sarki Musa, with the coaching ingenuity of Musa AlMustapha Hussaini.
In general, Team Nasarawa won two gold, one silver and one bronze medal, making a total of four medals, and bringing the total medals🏅 so far won by Team Nasarawa to nine, which comprise three gold, one silver and five bronze medals.
There are still more games to be competed for in the coming days, and nerves are still quaking to add to the medals' haul before the close of the Games Village next week.
In the words of the Nasarawa State Commissioner for Youth and Sports Development, Hon. Othman Bala Adam, "We think locally but act globally."
No doubts, Team Nasarawa is practically living that expression of the Commissioner.
www.globaltimesng.com