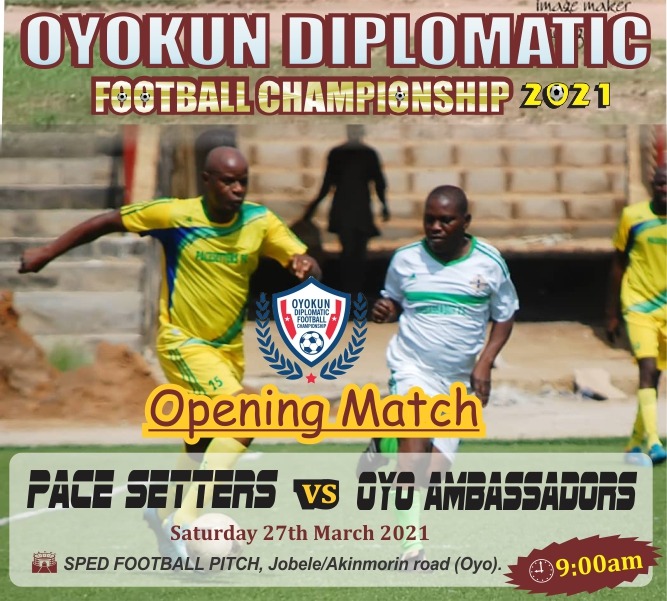 By Oluseyi Adedire
Oyo town and its environs will be excited this Saturday as the opening match of Oyokun Diplomatic Football Championship Season Four kicks off.
Last edition semi-finalist, Oyo Ambassadors will be hoping for revenge when they host the defending champion Pace Setters of Ibadan at the SPED football pitch along Jobele/Akinmorin road.
Pace Setters led by Team Captain, Kunle Busari fondly called 'gudugudu' will be looking to maintain their fine and impressive unbeaten run since the maiden edition of the championship against Oyo Ambassadors.
On paper, one might agree that Oyo Ambassadors are pushovers considering their last meeting at Lead City Football Pitch which ended 2-1 in favor of the Ibadan-based team. Kabiru Alausa 36'secs and Mutiu Adepoju 'Head Master's 29th minutes strike gave the defending champion a first-half lead before the Ambassadors reduced the tally after beaten Kola Ige. The only goal they conceded in four years.
Despite the confidence gained from such performances, Pace Setters stars, Dimeji Lawal, Kabiru Alausa, Mutiu Adepoju, Kola Ige, Lamptey, will all be aiming to refocus ahead of this edition and face possibly the hardest challenge of maintaining their last excellent form.
The opening fixture will take place at SPED football pitch along Jobele/Akinmorin road, Oyo at exactly 9.am.
Meanwhile, on Sunday, ICAS will slug it out with Wesley All-Stars by 1:30 pm. Last edition runners-up Bodija Housing All-Stars will trade tackles with Selected All-Stars by 2:35 pm while 3rd runners-up UI All-Stars will battle newcomer Urban Day All-Stars by 3:40 pm.
www.globaltimesng.com