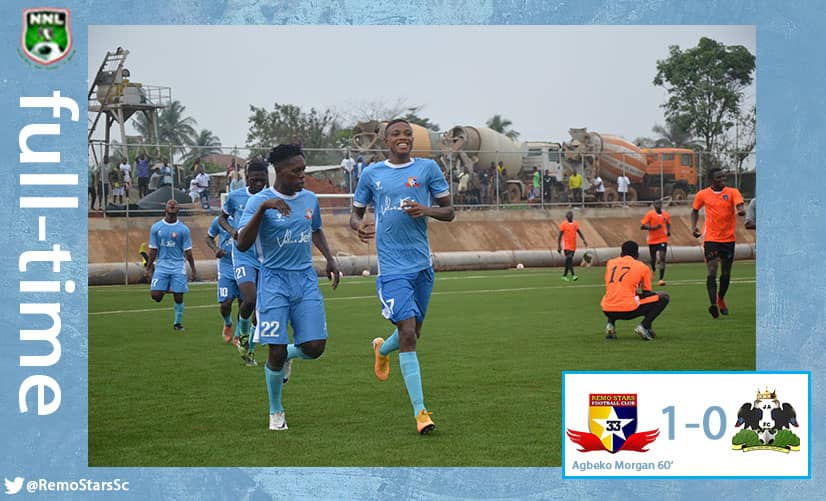 Agbeko Morgan had a hat-trick of chances before tapping Remo Stars FC to a 1-0 home win over J. Atete FC to maintain their top spot on the NNL Group B2 table.
Morgan tapped in Adah Mathias' teasing cross after Joke Efoweho couldn't catch at once, easing Remo Stars' lingering pain from Saturday's 1-0 loss at Lautech Complex in Ogbomosho.
Multiple brilliant performances from Akinsanmiro Ebenezer in previous games earned him a start in this encounter, with Olawale Yusuf returning to the starting lineup in place of Victor Collins.
Both sides started slowly and only took a defender, Olawale Yusuf to make the first attempt on goal after he found a crowded defense line, he took it at once and it went straight into the hands of the visitors' goalkeeper, Joke Efoweho.
Akinsanmiro Ebenezer tried to get the first goal for the Sky Blue Stars but his attempt was saved by Joke Efoweho and the boys went on break without any goal in the first half.
For much of the first half, both Remo Stars and Morgan appeared to be heading for an agonising evening, but then the young winger tapped home and the entire mood around Remo Stars Stadium changed.
Dada Oladimeji did a yeoman's job from the visitors half, he dribbled all his markers to send a powerful cross inside J. Atete's box but nobody was there to convert for the Sky Blue Stars.
Substitute Victor Osuagwu had a good chance to increase the tally for the host after he received a lofty cross from Ogunribide Oluwaseun, he headed at goal but Joke Efoweho was active to deny him.
Just immediately, Adah Mathias and Victor Osuagwu combined well to set up Dada Oladimeji, he took it anxiously and the ball went over the bar.
All attempts to record his name in the goalscorers' sheet, Akinsanmiro Ebenezer got another brilliant opportunity to score with his after Victor Osuagwu's powerful cross but Joke Efoweho denied him yet again.
With the win for Remo Stars FC, they remain on top of the NNL Group B2 table, and next for them is another trip to Delta State to face Apex Krane FC.
www.globaltimesng.com