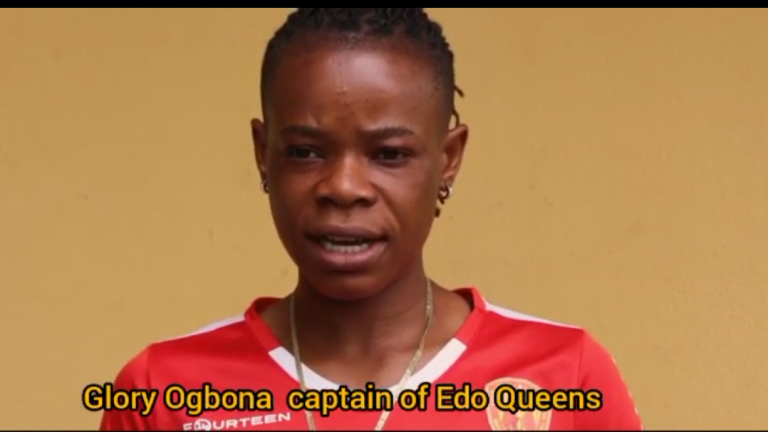 Inspirational Captain of Edo Queens FC Glory Ogbonna, has said that tomorrow's NWFL Wk 11 game between Ibom Angels and Edo Queens FC taken place at Akpabio Stadium in Uyo will be a game of the titans.
The ex-Ibom Angels star player who has won the hearts of many Uyo football for her commitment to the game, aveered that both teams are out to fight for the maximum three points.
[embedded content]
"Well I feel really great coming back here with Edo Queens to play Ibom Angels. Is a team I know very well, they are family to me I love the State and I'm happy to be home again because I call this place my second home.
But let me say this, it is football matter that brought me back here, now am with Edo Queens, so my total allengence is goes to my present club Edo Queens FC."
"Again a lot of people are expecting wonders from Ogbonna Glory in tomorrow's epic clash because of my past track record with Ibom Angels. I feel very happy when fans are asking questions about whether Ogbonna Glory is playing in tomorrow's game or not, to me that means that people love me and I will say here that with God on my side I'm not going to disappoint my fans, I will do exactly what I know how to do best."
"Ibom Angels is a great team, and Edo Queens is equally a great team too, so it is going to be a clash of the titans seeing these two great teams coming together to tackle each other. But one thing is clear, it is the best side that will carry the day, because in the game of football you cannot predict until it is over. But with our efforts, preparations, commitment and zeal, am pretty sure that Edo Queens will carry the day. All I know is that we are here to fight for three points that is the most important thing and we have to keep working."
"I also want to use this opportunity to call on our supporters in Benin City and here in Uyo to keep supporting us. We as players will continue to do our best. I know God is on our side, and will give us victory at the end of the day because we know that we have prepared for this match, and we are good to go."
www.globaltimesng.com