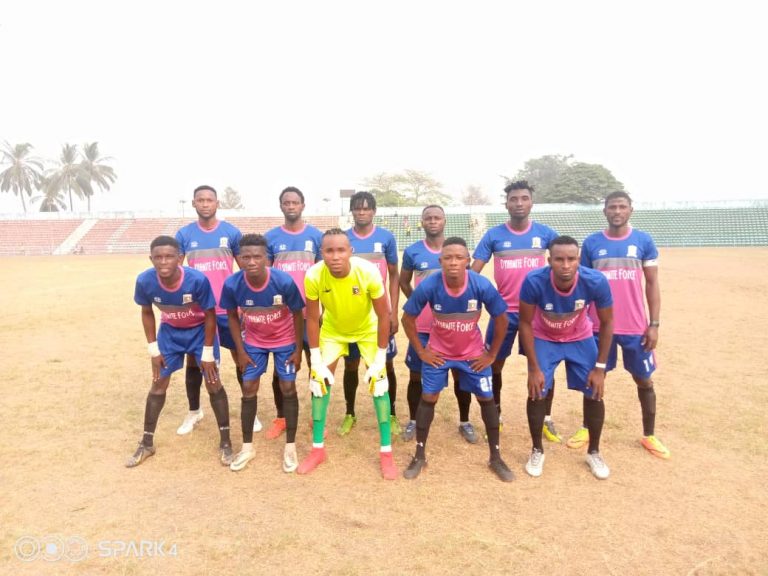 By Shehu Momodu, Media Officer, Dynamite Force FC
Dynamite Force FC of Iyamho, Overcome hard fighting Osun United FC by a lone goal, to secure their third win of the season.
FIRST HALF
Hadi Muhammed, got the only goal of the energy-sapping encounter, from a spot-kick at 33 minutes in the first half after the visitor's defender through a dangerous tackle brought down Ikalumhe Stephen inside the eighteen-yard box, to give the Iyamho base side the three points at stake in the Encounter and their third win of the season.
SECOND HALF
Dynamite created some good chances in the second half at 68 minutes Agholor Wellington set up Hadi Muhammed but the visitor's goalkeeper Arinze Okoro denies the homers a second goal.
OSUN UTD at close to stoppage time came close twice, Udo Treasure kept his cool to keep a clean sheet. While Bakere Emmanuel, Isuku prince, Kenneth IGWE, Oseni muideen, gave their all to defend their territory.
OSAmu Adun, Ubah Pascal, Falomami Bgenga, were on top of their game, just as Hadi Muhammed, Ikalumhe Stephen, Agholor Wellington played with tenacity in the matchday Seven contest.
the coach Murtala Buruchaga tutored the side never hide their intention to beat their Visitors as they created scoring chances but met a brick wall in the Skipper Hakeem Olalere lead defence line of the visitors while goalkeeper Arinze Okoro also made some excellent saves.
Murtala Buruchaga made substitution introducing fresh legs into the game
, Nessae Goodluck, on for Ubah Pascal, Cyril Patrick, on for Ikalumhe Stephen, Umeh Chinedu, on for Wellington Agholor, Isuku prince, on for Kalou Moses,
With Hadi Muhammed' goal from the spot-kick separating the two sides in the first half, the second half was fiercely contested as the Visitors tried all they could to grab the leveller but the home side refused to succumb, thwarting all the efforts of Coach Bright Omokaro tutored Osun United, till the referee brought proceedings to an end.
Dynamite Force thus continue their Campaign in the ongoing NNL 2020/2021 season having played seven matches and won three, looses three, Draw one, Scoring four goals.
What Next
Dynamite Force we now next Wednesday, welcome Delta Force Fc of Asaba in a mid week Clash at Edo University Sports Complex Iyamho for a matchday eight (8) Fixture.
www.globaltimesng.com