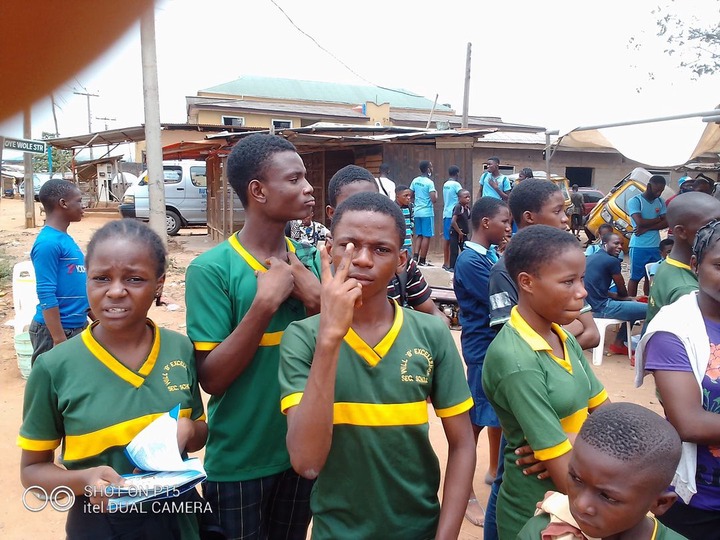 Not less than seven members from the combined male and female football teams of Will-B Excellence Secondary School, Ikotun, Lagos dropped heir soccer boots on Saturday and lined out instead for an athletics competition in nearby Abaranje.
It happened at the inter-house sports day of Blue Royal School, which took place at Alabama Field off Palace Bus top, where football action gave way to track and field, as students from the host school and others made the best of the rare opportunity to go running on the tracks.
Among the array of excited kids that gathered to honour the call by Blue Royal School, owned by a leading pharmacist and businesswoman in the area, Mrs Olayinka Mutiat Adegoke-Sanusi, was the assistant captain of Will-B Excellence Secondary School, Victor Adeshola.
The petit yet enterprising midfielder-cum-winger, who recently emerged most valuable player at Ije Ododo Baale's Coronation Cup, which his team won a few weeks back, was joined by Favour Philip, Frank Ojieh, David Nnayere and Desmond Ojieh from the institution's senior boys' team.
Also in the squad to Saturday's epochal event were the female duo of Chinecherem Moughalu and Chioma Gabriel, who recently took major steps forward in their quest for football's Golden Fleece when they had successful trials at Nigerian Women Football League (NWFL) side, FC Robo Queens of Lagos.
While Moughalu and Gabriel hope to step in the same direction as Robo's celebrated products that include the national female team, Super Falcons' captain, Asisat Oshoala at Barcelona Femeni of Spain as well as Rasheedat Ajibade and Chidinma Okeke, Saturday was not about football for them and their male colleagues, as they all went for action in the invitational 100m relays.
In the stands watching them was the proprietor of Will-B Excellence Secondary School, Elder William Folorunsho Olaoye, who was a special guest at the occasion in his capacity as the secretary-general of Alimosho Local Government chapter of National Association of Proprietors Of Private Secondary Schools (NAPPSS).
Also at the venue to support the runners were Daniel Aribatise and Daniel Hassan, respective captains of the male senior and junior football teams of Will-B Excellence Secondary School, who had only the day before been involved in soccer activities at Community School Ikotun.
That was Friday, and the senior squad played a 3-3 draw with a selected side from Animashaun area, led by their former coach, Ugo, with a stunning goal by Ibrahim Ayeni and a super brace from David Nnayere ensuring they stormed from three goals down to snatch shared points, in a game that got an exciting highlight of both sides netting a penalty apiece.
The same evening, the junior boys found out that their friendly billed for Saturday, arranged by one of their former colleagues, Praise Olukayode against Golden Stars FC at Water Field, also located off Abaronje Road, had to be postponed in order to avoid a clash of interest with the inter-house sports, and football was pushed totally aside for the day.
Consequently, the two Daniels were joined by two other members of the senior football team, Abiola Sultan and Samuel Akinnola as well as smallish Ahmed Fawaz from the juniors and their number one supporter and utility prefect at Will-B, Emmanuel Amadi, who only recently single-handedly got a new Nigerian national flag for their school.
The delegation from Elder Olaoye's school trooped out with glee and excitement, as they aimed for a repeat of sports glory for Will-B, as had been set in motion when Aribatise captained the senior boys football team to win Ije Ododo Baale's Coronation Cup the previous month.
Unfortunately, it turned out to be a different scenario this time, as 'The Excellent' delegation led by Will-B's principal, Mr Gboyega Tosin Adeuyi could not get on the podium of medals in both the male and female invitational relays.
Their hope was cut short by a baton exchange error from one of the boys, after which one of the girls fell over while running, and both unexpected setbacks cut short their great expectations at the event that also had several other esteemed personalities in attendance.
It meant disappointment for the delegation that also included Emmanuel Okoro in the male squad as well as the female lot of Precious Okereke, Nnanna Favour, Elizabeth Godson, Esther Amadi, Precious Philip Chiamaka and Cynthia Nnayere, who all sulked back to their school's base at Adejonwo Street, off Abogunloko area of Ikotun.
They were, however, offered words of consolation by their school's proprietor, who left his seat at the high table to put pats on the backs of all his students, while also cheering them up with a personal verdict that they tried their best, plus the psychologically soothing assurance that they will always have days ahead of them to make amends and do better next time.
Olaoye posited: "There's nothing to be ashamed of; you all tried your best and I am proud of you. It's true that we hoped to do better, but no one should complain about what happened, it can happen to anyone. Let's just take it as it has come and prepared for another day."
www.globaltimesng.com