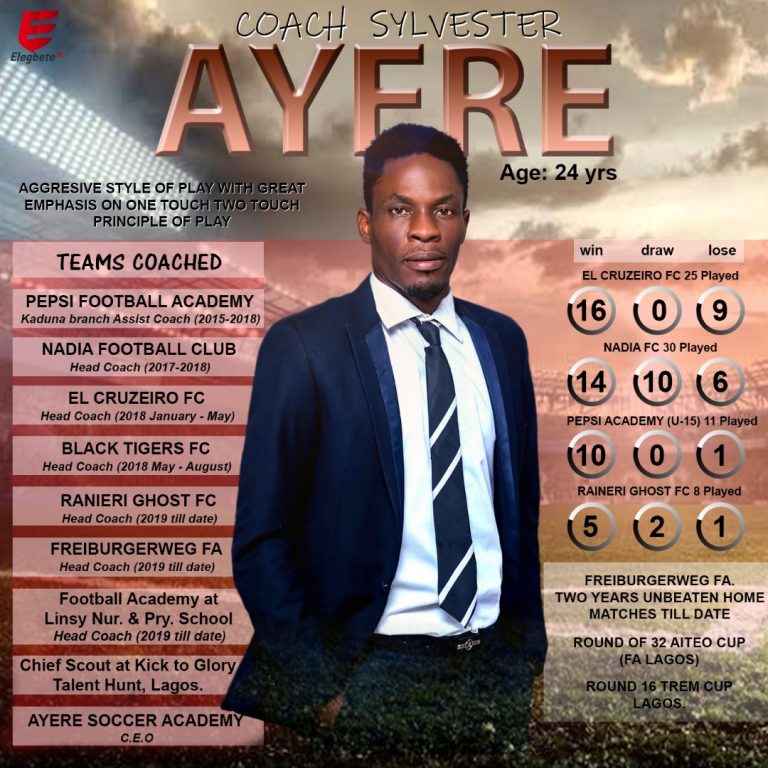 Head Coach of Freiburgeweg Fc in Lagos, Ayere Sylvester has lamented the lack of education of Nigerian Coaches, admitting how terrible it's affecting our football.
Nigerian Coaches has been heavily criticized for their underwhelming performance, most especially in the previous year (2020), even up to this year, 2021.
It all started last year when the Nigerian U23 team (Olympic team) failed to qualify for the Olympic Games in Tokyo, the Super Eagles of Nigeria surrendered a 4-1 halftime lead to Sierra Leone in Benin, only to draw 4-4 at full time. The U20 team as well failed to qualify for the semi-finals of the WAFU B tournament in Benin Republic, after being knocked out of the group stages, meaning that they will not participate at the CAF U20 AFCON Championship. And presently, the Nigerian U17 Team, popularly known as the Golden Eaglets are on the brink of not only qualifying for the Semi-Finals of the Ongoing WAFU B tournament but also not qualifying for the CAF U17 AFCON championship.
Reacting to all these poor performances of the Nigerian teams with Sports247, Coach of Freiburgeweg Fc of Lagos has lamented the poor outings of the Nigerian teams, as he blames lack of education on the part of our coaches, stating how terrible our Coaching systems have been. The Coach also admitted that Nigeria is blessed with great talents but having talents isn't enough in football, as these talents need to be harnessed and developed so as to mature into great footballers, which most of our Nigerian coaches lack.
"Looking at our performances since last year, Our Olympic teams failing to qualify for the Tokyo Olympic Games, the Super Eagles match against Sierra Leone in Benin, Our Flying Eagles being knocked out of the U20 AFCON Championship and our Golden Eaglets on the brink of being knocked out of the WAFU B Tournament, it's been very bad"
"We are blessed with talents, everywhere you go, you see talent upon talent but then football has gone beyond having the only talent. Talent doesn't play football, so the main problem is our Coaching education. IT IS SIMPLY TERRIBLE. It is so terrible that most of the coaches are still coaching the wrong thing.
"I have said this before and I am saying it again, it is not how well you train but how right you train. A lot of coaches in Nigeria train and train players a lot but are not training them right. That is why when we get to certain tournaments, we don't perform. It is because we don't understand the details in football".
"Football has gone beyond talent. We need coaches that can coach in detail, Coaches that can guide players from that Cadet stage. Football is developmental and we have missed it real deep that a lot of coaches only focus on the professional level, not minding that the players here are coming from a place that is not properly structured, which is a big problem. So if we take our Coaching Education very serious, like having an Annual Coaching Education, not just seminar, but proper Coaching Education, centered on Youth Development, not just for Certificate reasons to coach a club, but proper developmental Coach that after his graduation programme on Coaching, he would be able to impact on the younger players. And with time, we will start having the right Coaches for our teams".
"If we have talents everywhere but not progressing, it shows that our Coaching Educational System is bad. It's not about the NFF or the administrators, but our Coaching Educational System is terrible. A Coach should be able to learn more and evolve more to the modern style of football, but our Coaches don't. The earlier we begin to correct our mistakes in not educating our Coaches, the better for our football development," the outspoken manager concluded.