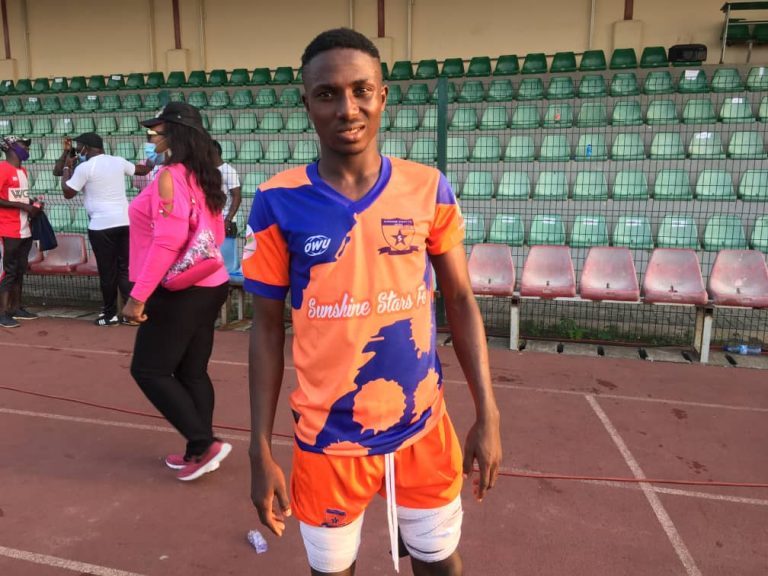 Sunshine stars attacker, Adejubu Ayomide has admitted that his team will correct their mistakes against MFM, before their next game, as they aim to win their next NPFL fixture.
Sunshine Stars of Akure at the Soccer Temple Stadium in Agege, Lagos State on Sunday lost 1-0 to MFM Fc in Match Day 3 of the 2020/2021 NPFL season, with Dennis Obasi scoring the only goal of the game in the 7th minute of the encounter.
Speaking after the match with Sports247, Sunshine stars attacker Adejubu Ayomide admits his team's mistakes in the match, staying that he and his teammates will try and amend their mistakes against the Odukoya boys, as they will aim to win their next NPFL fixture.
"It was a good game today (Sunday) and we really played well, but unfortunately, we lost. But I believe that we will amend our mistakes before the next game and try to win the match", he stated.
When being asked about the seriousness of his injury, due to the fact that he wobbled off before the end of the game, Ayomide stated that his injury was a minor one, admitting that he will be fit for the next NPFL game.
"It's just a minor injury, I think I will be fit before the next game", he said.
The win for MFM makes it two wins and a loss in three games played so far in the league.